As there are no payout thresholds on JumpTask, you can withdraw your JumpTokens whenever you want. Once you have decided that you have accumulated enough and wish to withdraw your JumpTokens to your connected cryptocurrency wallet (MetaMask or any other WalletConnect compatible wallet), simply click on the "Withdraw" button.
Please note that if you signed up for a JumpTask account using Google or Facebook, you be asked to enter your Binance Smart Chain compatible cryptocurrency wallet address. If you are unsure how to create a Binance Smart Chain-compatible cryptocurrency wallet, please refer to this article here on how to do that.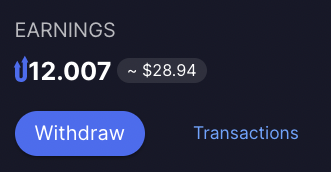 The transfer should be processed within a few seconds. A notification at the bottom right part of the screen will appear, indicating that you have successfully requested a payout.

After your payout request was processed, Dashboard will update and will show your current wallet balance and your recent transactions.