Once you have decided that you have accumulated enough JMPT you can withdraw your JumpTokens to your connected cryptocurrency wallet (MetaMask or any other WalletConnect-compatible wallet). In order to initiate a withdrawal simply click on the "Withdraw" button.
Please note that if you signed up for a JumpTask account using Google or Facebook, you will be asked to link your EVM-compatible cryptocurrency wallet. If you are unsure how to create a cryptocurrency wallet, please refer to this article on how to do that.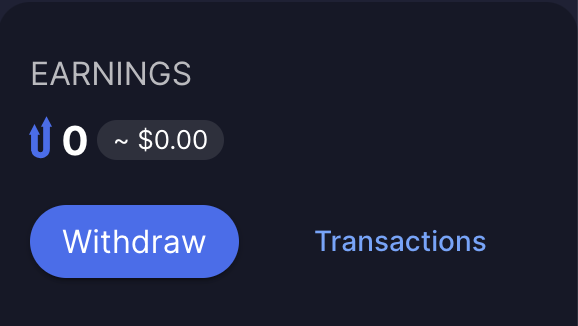 Withdrawal Threshold
JumpTask has implemented a 0.5 JMPT withdrawal threshold, meaning that JumpTaskers must accumulate at least 0.5 JMPT in their earnings balance to request a withdrawal.
This threshold serves several important purposes:
- Firstly, it ensures cost efficiency by minimizing the impact of gas fees on smaller transactions, ensuring that your earnings are both substantial and worthwhile.
- Secondly, it enhances the user experience by streamlining the payout process, reducing the frequency of smaller transactions, and potentially saving you money on gas fees.
- Lastly, this threshold contributes to a more sustainable platform, allowing us to allocate our resources more efficiently and provide a robust and enduring microtasking experience for all users.

Choose the withdrawal network
During this step, you'll be presented with the task of selecting a withdrawal network from the available options: Binance Smart Chain, Celo, and Polygon.
It's vital to recognize that each network operates uniquely, bringing forth its own set of benefits and considerations:
Binance Smart Chain
Renowned for its rapid transaction processing and cost-effectiveness, Binance Smart Chain facilitates a swift withdrawal experience. It's essential to ensure that your chosen wallet supports this specific network.
Celo
Celo stands out by focusing on mobile accessibility and financial inclusion, introducing a distinctive approach to withdrawals. However, be aware that not all wallets, including the Binance WEB 3.0 wallet, are compatible with the Celo network. Celo offers the cheapest gas fees.
Polygon
Offering both speed and compatibility with Ethereum, Polygon provides seamless transactions. To proceed with Polygon as your withdrawal network, confirm that your wallet is compatible with it.
Equally important is comprehending the significance of being well-acquainted with these networks' nuances. Moreover, the variation in gas fees across these networks.
Prior to confirming your withdrawal network, take the time to thoroughly evaluate the unique features and implications of each network. This informed decision-making process will ensure a withdrawal experience tailored to your preferences and requirements.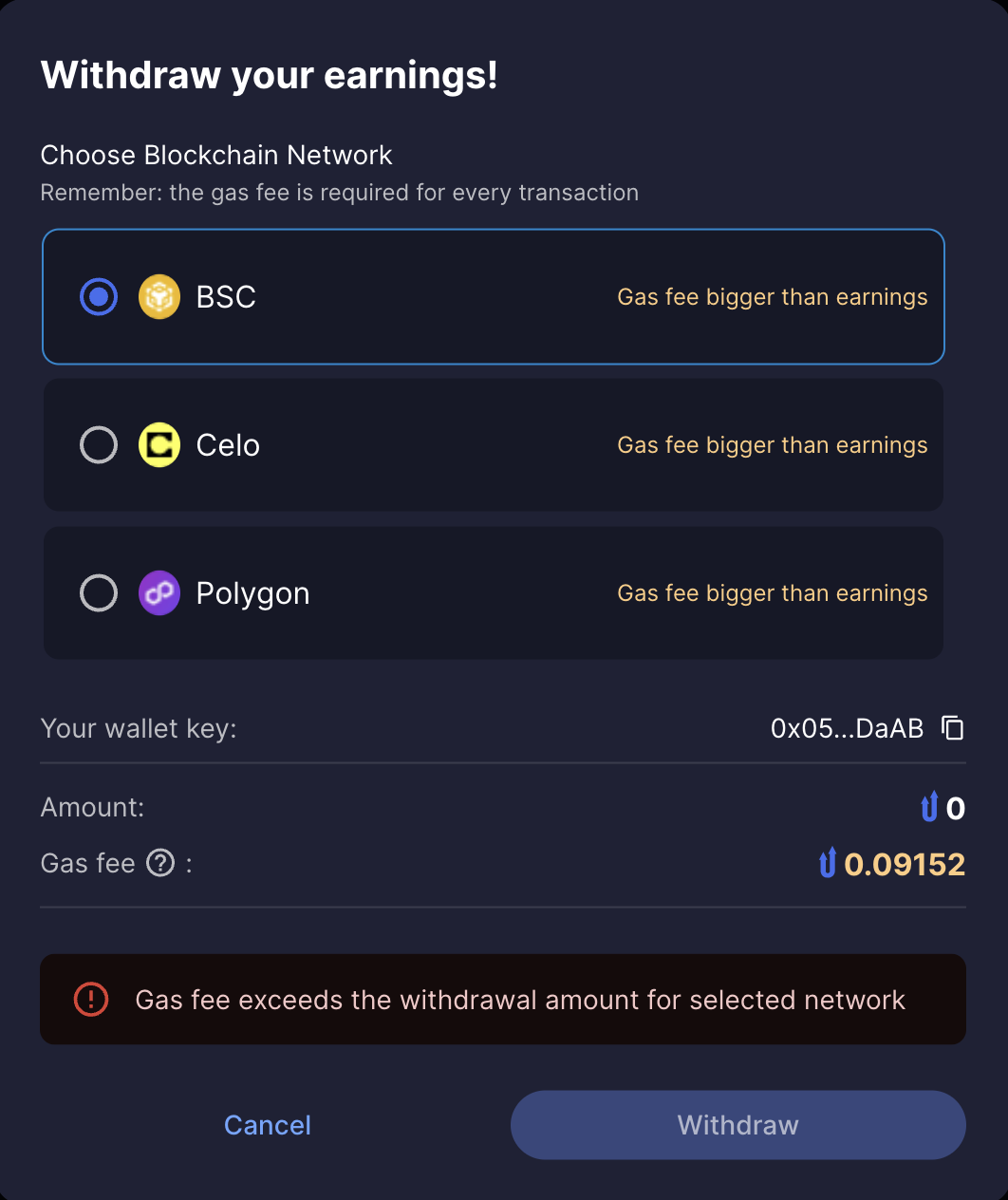 Withdraw
The transfer should be processed within a few seconds, however, it can take up to 1 hour. A notification at the bottom right part of the screen will appear, indicating that you have successfully requested a payout.
After your payout request is processed, the Dashboard will update and you will see the status of the withdrawal as "Completed" in your "Transactions" section of your account.